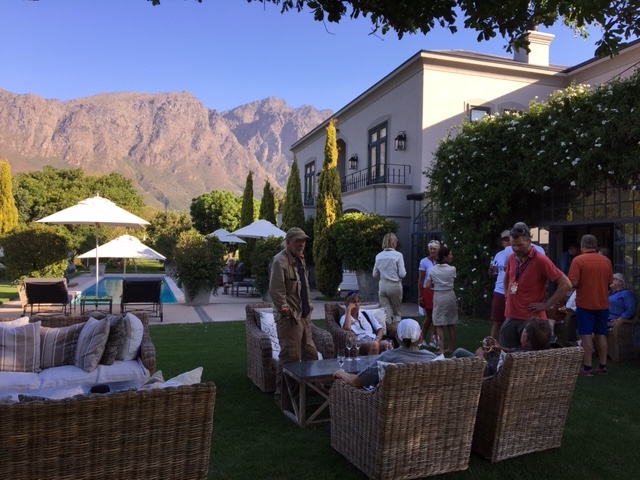 The penultimate day…
We set off from the Queens hotel in Oudtshoorn after early breakfast and an extra Regularity was put on to make up for the one that had to be cancelled yesterday – so three in all today. The first two were soon after we set off from the hotel and one almost lead off from the other so it was good to get those out of the way early and very encouraging to get another zero on the first one 🙂 Zero is J's new nick-name for me. As this was our second one we thought about making it Double Zero but J thought that sounded insulting as it could be a very small bra size! So I'll stick with Zero which is cool enough for me. Anyway that didn't stop me being nervous about the third one though which wasn't until mid afternoon just before we arrived at our destination so I can't say I noticed much of the scenery today.
Because of the difficulties in closing tarmac roads, the were all on gravel/dirt roads as usual, so many more mouthfuls of dust were swallowed.  The third regularity had two timing points so that made it a bit more of a challenge and the last few Km the average speed went up by 10K just before a dip and a corner and of course the end was just round the corner, but we didn't do badly and were infact early by three seconds.
At the first timing point, Jeremy's ace, professional, previous navigator, John Baylis and his other half were Marshalling. Jeremy was so delighted to see him that he turned the engine off! I had to be a very bossy navigator and make him carry on at speed to make up the valuable seconds we were losing by socialising – not to mention that Andrew and Claudine our Team fellows in Rusty Nuts had started one minute behind us and likely to be held up by us and never speak to us again!
At the end of all those dusty miles and hot competition we were rewarded by being welcomed onto the home of previous Rally Round competitors Clive Venning and his Wife – for a fabulous wine tasting at their very fabulous house.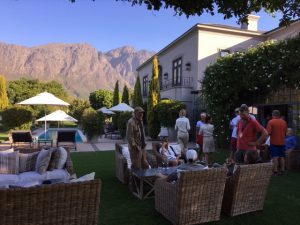 Then on we went – luckily only round the corner for the drivers – to the Le Franschoek Hotel. Another beautiful place where we each stayed in individual "huts" more like houses, with a lovely airy main building where we had dinner in a sort of huge dining hall. There was a lovely atmosphere tonight. Everyone is in the mood for celebrating. The end of the Rally is in sight but still the excitement of the competition goes on. We have now such a reputation for overcoming all the problems with the Sol our car that we were clapped out of the dining room when we left. That was very special.