Bye bye team at Phinda – lovely seeing you and all the other animals.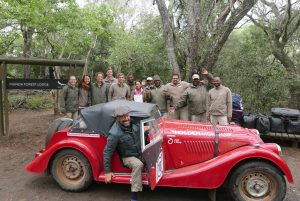 Hello Umghlanga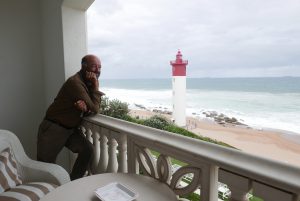 The face says it all – we have arrived at the Oyster Box in Umhalanga – a beautiful hotel in a stunning location, in one piece but with no clutch! The closest I have seen to J not smiling!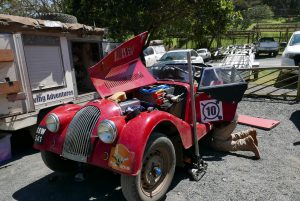 I have enough wifi to upload a few photos but feeling FOMO as my group WatsApp with the Rally is inundated with pictures of  everyone else enjoying cocktails, while I do Blogging. Here I am with Eva and Barbara feeling very proud of ourselves!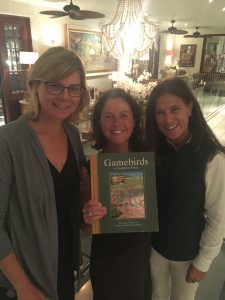 J is spannering with the mechanics (saints!) with the help of a beer from Pam. Pam and Laurie do know how to look after us!
p.s. Recent regularities have been cancelled and I totally messed up the ones that we did do – partly because of the broken cable to the gauge pilot – no speedometer – no kilometre – no trip meter – etc etc – but today we had two regularities and with the help of a stop watch (even that is 4 seconds out), and an app on my phone which didn't overheat today, we got a Zero and a 1 – (for my friends and family who don't know – low is good) is bring on the beers.
Here is a picture of the Rally Round Team – Organisers, Doctor, Photographer and Mechanics, with my celebrating our Zero with Gary 🙂