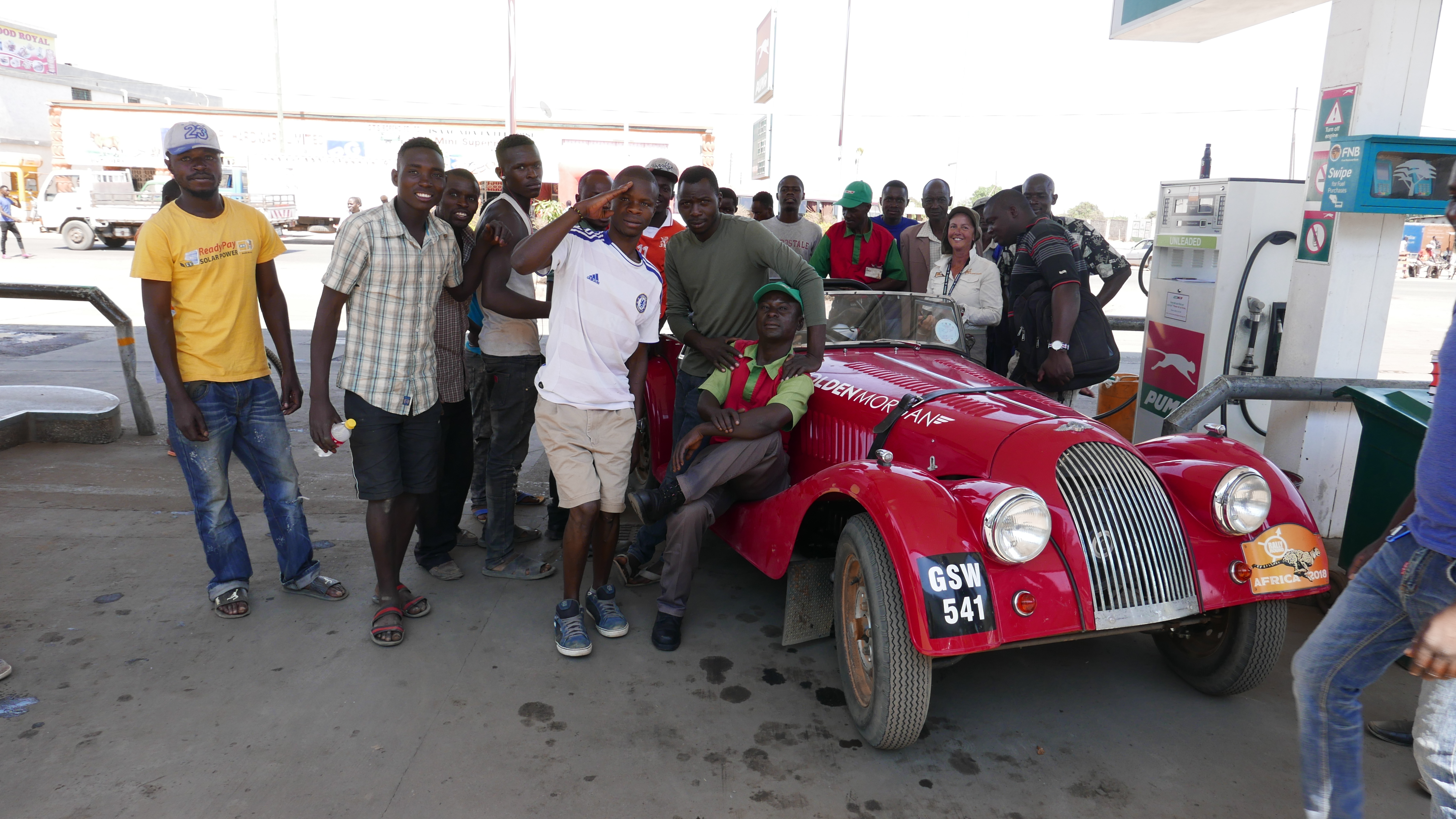 So we checked out of time control at 06.10 and then went to breakfast. Probably not that sensible as little Sol has one of the smallest engines on the Rally and needs lots of petrol stops
and stops to crack the breaks off every time J has to use them, so we struggle to get the the time controls at the best of times. Anyway we had a good run out of Lusaka and then did a 45K section on a dirt track – that was really good fun but no pictures I'm afraid as SO bumpy and no time for stopping. The only car we passed was one of the Porsches, who were understandably taking it very carefully after a previous Porsche lost it's suspension in a pot hole earlier in the Rally.  So we knew we were at the back of the pack again.
After making up some miles on a nice clear main road,  – only stopped for speeding once (!) we turned off onto more track to start our first timed section: Regularity RS9./1 : Kolomo.
Here is where it all started to ho horribly wrong! This is what Raying is all really about – the competitive side. The previous regularities had been cancelled for various reasons so there was quite a build up to this our first one and I was nervous enough as it was. There is a window of time to do the regularity and we got there five minutes before the end – We spent 15 minutes faffing about where the start was as the instructions were ambiguous – Several locals stopped and asked if they could help as they thought we were lost – we tried to explain what we were doing but it's not easy to explain! – I had at this point put about four different start times on my time card and we were now 15 minutes late to start. Little did I know there was worse to come – I was just getting ready for the off and my phone which is what I was using for a trip meter told me it was too hot and it died on me! Stress levels were boiling over – but J remained his usual calm self and started taking photographs! We decided to just drive it and guess the distances and see what happened….. We don't even have a speedometer (!) because of the snapped cable, but J thinks the rev counter is just as accurate.  I have a proper mechanical stop watch that J sells through HVC but it was useless without the trip meter. The average speed was supposed to be 38 so again we guessed. Unbelievably we didn't get lost and arrived only a few seconds out – so it could have been a lot worse but I was quite traumatised by the whole thing!
It was all made better by the section ending at Rowland and Mandy Smith's Farmhouse where they hosted a fabulous lunch for us all, care of our fellow competitor Tony Allen.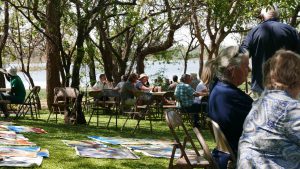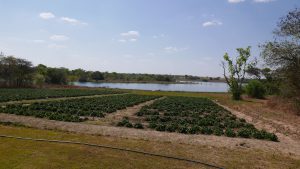 By complete co-incidence Tony is associated with a schools charity called African Revival who are supported by Just A Drop! Two of their representatives were there so we chatted to them about Just A Drop and here is a photo of J with them: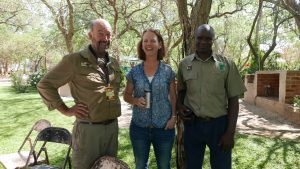 I put my phone in the fridge and off we set for the next regularity – which wasn't nearly so traumatic –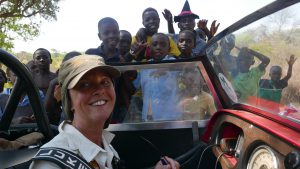 and the drive down to Livinngstone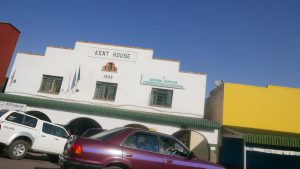 Soon after Livingstone we arrived at the fabulous fabulous fabulous Royal Livingstone hotel. Not often you have Zebras grazing on the lawn with a Morgan in the background!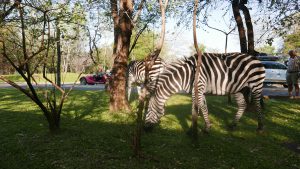 We were greeted with sundowners looking over the Zambezi river. The stresses of the day all forgotten